By Austin Ogwuda
Enugu—Executive Chairman of the Economic and Financial Crimes Commission, EFCC, Mr. Ibrahim Lamorde, yesterday, in Enugu, said the commission had cracked oil subsidy fraud in which over N5 billion had been recovered and more than 40 suspects arrested.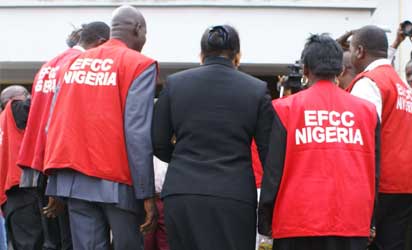 Lamorde, who disclosed this at a workshop on effective reporting of financial crimes organized by the commission for journalists in South-East zone, also said a couple had been arrested in Port Harcourt, Rivers State, for allegedly defrauding a new generation bank of N855 million.
Represented by the Deputy Director, Public Affairs Department, Mr. Osita Nwajah, the EFCC chairman said: "Cases abound in our offices across the six zones of the country.
"In the oil subsidy fraud being investigated by the commission, over N5 billion has been recovered, while more than 40 suspects are being prosecuted in court.
"In the pension fraud matter, the commission has secured one conviction and recovered property valued at over a billion naira.
"We need to pay attention to these cases. It is not only when a former governor is arrested that the media would be interested.
"As I speak, the commission is investigating a case of fraud in a new generation bank in Port Harcourt where a customer, working with his wife who is a staff of a new generation bank, defrauded the bank of N855 million.
"The suspect, one Ochenna Ogbonnaya Dike cashed in on system glitches to perpetuate the scam over a period of five months by transferring funds from the bank into accounts in the new generation bank.
"Other accomplices in the scam," he went on, "are currently on the run. But EFCC will get them as we are determined to check all incidences of fraud in the banking sector.
"I urge you (media) to take greater interest in cases that are either being investigated or prosecuted by the commission.
"Where media interest in corruption cases fizzles out after arraignment is unhealthy."

Source: Vanguard NGR