NLNG Prize for Literature Stokes On Black Sisters Street

12 November 2012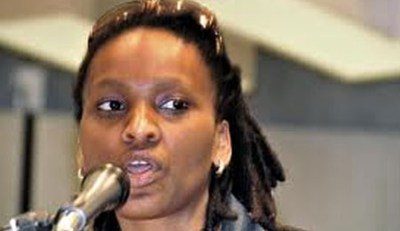 The Nigerian prose, On Black Sisters Street by Chika Unigwe, was announced winner of the 2012 Nigeria Prize for Literature last week in Lagos. The Prize has contributed immensely in lifting the writing skills of Nigerians. Mary Ekah writes
Unigwe, tells the haunting story of four very different women who left their African homeland for the riches of Europe and who are thrown together by bad luck and big dreams into a sisterhood that will change their lives. Each night, Sisi, Ama, Efe, and Joyce stand in the windows of Antwerp's red-light district, promising to make men's desires come true if only for half an hour. Pledged to the fierce Madam and a mysterious pimp named Dele, the girls share an apartment but little else. They keep their heads down, knowing that one step out of line could cost them a week's wages. They open their bodies to strangers but their hearts to no one, each focused on earning enough to get herself free, to send money home or save up for her own future. Then, suddenly, a murder shatters the still surface of their lives. Drawn together by tragedy and the loss of one of their own, the women realise that they must choose between their secrets and their safety. As they begin to tell their stories, their confessions reveal the face in Efe's hidden photograph, Ama's lifelong search for a father, Joyce's true name, and Sisi's deepest secrets and all their tales of fear, displacement, and love, concluding in a chance meeting with a handsome, sinister stranger.
On Black Sisters Street, authored by a brilliant new writer and a standout voice among contemporary African writers, tells a story of courage, unity, and hope, of women's friendships and of bonds that, once forged, cannot be broken.
It was no wonder therefore that the Panel of Judges for The Nigeria Prize for Literature, 2012 considered On Black Sisters Street by Chika Unigwe a work of outstanding merit and adjudged it the winning entry for The Nigeria Prize for Literature, 2012.
According to the Chairman of the panel of judges for 2012, Prof Francis Abiola Irele, On Black Sisters Street focuses specifically on the very precarious situation of women, particularly the issue of sexual slavery, adding, "In her depiction of the socio-economic conditions in Nigeria, Unigwe displays grasp of narrative techniques as well as excellent descriptive capabilities."
The Nigeria Prize for Literature was instituted in 2004 by The Nigeria LNG Limited to identify and reward excellence in literature with an overall objective to encourage and stimulate authorship and the development of Nigerian literary culture in terms of creative writing, production and reading, and by so doing guide literary taste. The prize rotates among four literary genres and this year, the competition focuses on prose fiction.
This year, a total of 214 entries were recieved, the highest ever since the inception of the prize in 2004, were received for the competition. The following criteria were set for the entries: quality of editing and production, relevance to the Nigerian situation, vivid presentation of character and plot as well as the use of language. An initial shortlist was based on such factors as overall packaging and other aesthetic elements, appropriateness of title and year of publication and at the end, 58 entries made it to this round.
It was scaled down to 22, then 10 and finally a shortlist of three entries which were "Only a Canvas" by Olusola Olugbesan, "Onaedo: The Blacksmith's Daughter" by Ngozi Achebe and "On Black Sisters Street" by Chika Unigwe. This paved way for Unigwe's book to beat "Only a Canvas" by Olusola Olugbesan and "The Blacksmith's Daughter" by Ngozi Achebe to clinch the 100,000 Dollar prize.
By coincidence, the three novels deal with issues concerning the plight of women in the past and in the present but Unigwe's On Black Sisters Street, focuses specifically on the very uncertain situation of women and the issue of sexual slavery. The Chairman of the panel of judges had described the book as a sobering revelation on the horrors women face and also a work that displayed a very technical narrative technique.
During a ceremony in Lagos to announce the winner, the Chairman of the occasion and former Vice Chancellor of the University of Ibadan, Professor Ayo Banjo, lauded the panel of judges for considering On Black Sisters Street a work of outstanding merit and adjudging it the winning entry for the Nigeria Prize for Literature this year.
Unigwe, a Nigerian-born author who writes in English and Dutch has a Ph.D in Literature from the University of Leiden in the Netherlands. Her debut novel, De Feniks was published in 2005 by Meulenhoff and Manteau (of Amsterdam and Antwerp) and was shortlisted for the Vrouw en Kultuur debuutprijs for the best first novel by a female writer. She is also the author of two children's books published by Macmillan, London.
She has published short fiction in several anthologies, journals and magazines including Wasafiri (University of London), Moving Worlds (University of Leeds), Per Contra, Voices of the University of Wisconsin and Okike of the University of Nigeria.
In 2003, she was shortlisted for the Caine Prize for African Writing. In 2004, she won the BBC Short story Competition and a Commonwealth Short Story Competition award. In the same year, her short story made the top 10 of the Million Writers Award for best online fiction.
In 2005, she won the 3rd prize in the Equiano Fiction Contest. Her second novel, Fata Morgana, was published in Dutch in 2008 and will soon be released in English. Her first novel, De Feniks, was published in Dutch in September 2005 and it is the first book of fiction, written by a Flemish author of African origin. In 2009, Chika Unigwe's novel On Black Sisters' Street, about African prostitutes living and working in Belgium, was published in London by Jonathan Cape. She lives in Turnhout, Belgium with her husband and four children.
Meanwhile, the panel of judges at the award ceremony lamented that poor quality of production is still a fundamental problem affecting Nigerian Literature, adding that some of the entries would have stood a better chance of winning the prize but were marred by problems attendant upon poor publishing.
"Some of the books submitted for this year's prize failed to rise to the final stage because of issues like poor editing, proof –reading, poor binding and other publishing errors", the panel noted. It therefore advised that Nigerian publishers ought to realise that this prize is an international one.
It however believed that with the Nigeria Prize for Literature, administered, on behalf of Nigeria LNG Limited, by the Nigerian Academy of Science and Nigerian Academy of Letters, it is expected that the quest for a prestigious prize will improve the quality of writing, editing, proofreading, and publishing in the country with far-reaching positive effect on print and broadcast journalism.
The Panel of judges for this year's competition included Professor Francis Irele; Professor Angela Miri; Professor Sophia Ogwude; Professor J.O.J. Nwachukwu-Agbada and Dr. Oyeniyi Okunoye while the Advisory Board included Professor Emeritus Ayo Banjo, Dr. Jerry Agada the Vice-Chairman and Professor Ben Elugbe.
The Panel of Judges however commended Nigeria LNG Limited for its commitment to promoting Nigeria Literature, adding, "We are happy at their insistence on best practices for the competition and hope that the prize will continue to be the most prestigious literary prize in Nigeria and Africa."